The Helm / Wagner Family continues with pioneering spirit, inspired by past generations.
Home is where the heart is —
for 5 generations
By Linda Helm

It's late summer so we have foil on the windows to cut the heat and glare from the sun. We sleep in a tent in the backyard because our little house is just too hot. As I write this, a feisty yellow jacket is trying to gain entrance through a torn screen. The "snake proof' fence my father engineered some forty years ago is now falling down in places. Needless to say, it is no longer snake proof. And it looks like someone, at one time, tried to drive through our gate without first opening it. When winter comes, so do the rains. Then it's time to worry about the leaky flashing around the lopsided chimney my great uncle built or the cold invading the house through a damper-free fireplace. Home is a contractor's paradise and a "city-dweller's" nightmare. The need for repairs seems endless and sometimes even insurmountable.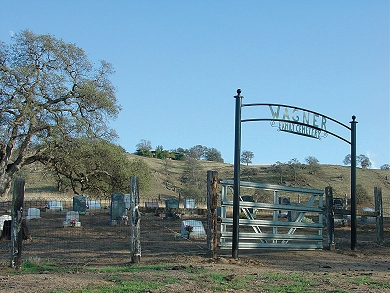 Home is the land of my great-grandparents, the Wagners, who first settled here in 1856. Home to bobcat, coyote, hawk, quail, and owl and, yes, even the occasional rattlesnake. Home to a one-eyed feral cat and a persnickety Schnauzer named Fred. Home to the house my father built and my parents lived in for almost 25 years. To a ranch where I spent weekends of my youth digging for arrowheads or swimming in the windmill water tank.

Like bits of obsidian, there are memories here in abundance. I love this place and now, too, so do my children. So we withstand the small discomforts because we take comfort in what we have gained from living up here in these untamed foothills. A sense of pride in being able to say we are the 4th and 5th generations living here; an understanding of what it takes to actually endure and, more importantly, conquer one hardship after another; and, finally, a greater appreciation for each other, individually and as family.
---
Crossing the Plains in 1856
An Autobiography by Francis Helm McClure
Download PDF
---
Communications for Life
Like Ponderosa, Linda Helm, a mother and law school graduate, understands the value communication services bring to help her carry on her family heritage ̶ for her children and future generations.