Are you strong enough to take the road less traveled?
The Grizzly Century is dedicated to community.
A few friends with a passion for riding came together to create an upbeat fundraising event to benefit their community in a downturned economy.

Rain or shine, hundreds of athletes converge on North Fork to pedal their hearts out for good cause. The Grizzly Century, a 100 mile bicycle tour over a National Scenic Byway is aptly named. It's open to anyone looking for a sense of challenge, achievement and shared spirit with nature. And, it is among the most spectacularly scenic rides in the world.

"For those who are drawn to a fitness challenge, the beauty of the Sierra, and the cozy friendliness of a small town, the Grizzly Century is the ultimate. For those who prefer a relaxed day of touring, we offer a variety of rides that are equally rewarding experiences", offers Mike Nolen, a Grizzly Committee Founder.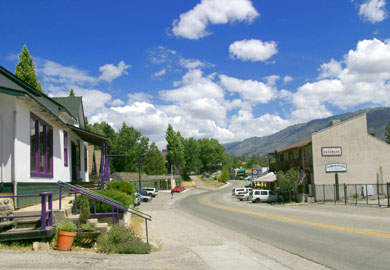 The Grizzly has a purpose beyond a bicycle tour. The proceeds from the event are used to fund community projects such as heritage murals, landscaping features, and information centers. These projects celebrate the pride of this unique community and attract visitors to the Sierra Vista Scenic Byway recreation area. The Grizzly is 100% staffed with volunteers, including many dedicated residents who sacrifice their early morning sleep to support the event logistics and extend some friendly hospitality to the riders and their travel companions.

Ponderosa is pleased to sponsor this activity, and we congratulate the Grizzly Century Committee and the resident volunteers for their dedication to the community in which they live. We too share the Grizzly's dedication to community by delivering reliable quality communication solutions which make our mountain lifestyle possible.
Links:
Grizzly Century Website
Local Sierra Vista Scenic Byway Association
Visit North Fork